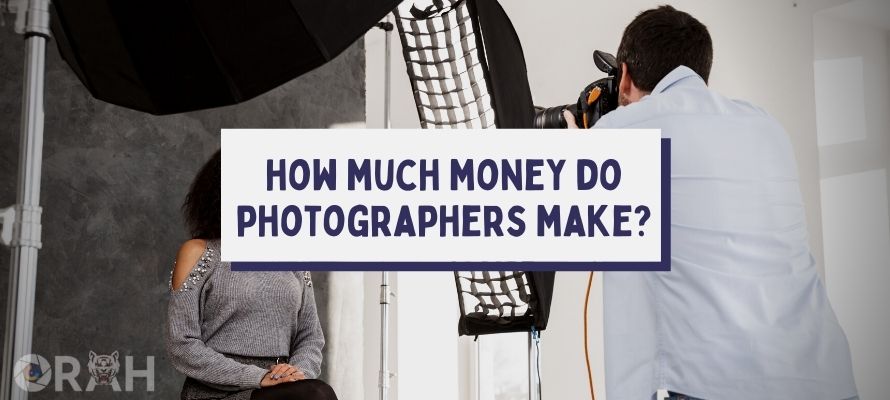 What was the first thing that came to your mind when deciding which profession to opt for? For me, it's always "how much money can I make?" and it is the same for many people.
During my high school days, when I got my first camera, I used to spend most of my time clicking pictures of different things.
When it was time for me to decide which profession I should choose, a friend suggested that I should become a professional photographer owing to my extraordinary skills.
But before I decided to be a professional photographer, I tried to find out how much professional photographers make. Today, I see many young people who have a passion for photography asking how much they can make as professional photographers.
Stay with me till the end of this blog and find out how much photographers around the world earn and how to increase your income.
Average Photographer Salaries In The USA
America is one of the biggest markets available to photographers. With its film industry, modeling industry, brand shoots, wildlife, natural shoots, and many more niches, America is a hub of earning opportunities.
On average, a US-based photographer charges around $20 to $25 per hour. These prices fluctuate depending on the nature of the assignment, equipment requirements, and the quality of the photographer.
A good professional photographer usually earns around 50 thousand to 55 thousand dollars a year.
Average Photographer Salaries In The UK
The UK is another huge market for photographers. With an ever-evolving fashion industry, the UK industry is a goldmine for photographers interested in model photography and product photography.
The average hourly pay for a photographer working in the UK is around $16 to $20. Again, this will vary depending on the requirements of the particular shoot and the proficiency of the photographer.
A UK-based photographer can make around 30 thousand to 35 thousand dollars in a year with a pay rate of $16 to $20.
Average Photographer Salaries In Australia
Australia is a haven for nature and wildlife photographers with its huge ecosystem, which includes forests, deserts, mountains, rivers, and beaches.
These diverse habitats make Australia a growing marketplace for emerging and existing photographers, especially for those in wildlife or nature.
An Australian photographer can make around $35 to $40 an hour. At these rates, photographers in Australia can make around 80 thousand to 85 thousand dollars per year, making Australian photographers some of the highest-paid photographers in the world.
Average Photographer Salaries In Canada
Canada is also a growing market. With its growing fashion and movie sectors, with new brands emerging, and scenic natural beauty, Canada is filled with opportunities for those photographers who are not afraid to go out of their comfort zones.
In Canada, the average hourly rate charged by photographers is around $20 to $25. A photographer based in Canada can easily earn around 55 thousand to 60 thousand dollars at these rates. These are the average incomes, which may vary depending upon a photographer's seniority.
How Can You Increase Your Earnings As A Photographer?
This is something that I get asked very often. Today I will tell you some ways in which you can increase your income as a photographer. These are some basic skills that can greatly improve your earning potential.
#1- Widen Your Area Of Expertise
One thing that I have noticed many photographers doing very often is that they stick to only one niche. Yes, this is a good thing to do as a beginner, but increasing your areas of expertise is just as important as taking good pictures.
I personally work for clients from multiple different niches. This not only expanded my portfolio but also got me connections in different fields.
#2- Try To Learn Photo Editing Techniques
Taking just good views and good angles is not enough. Being able to edit them so that they look their best is just as important. At the beginning of my career, I often came across such feedback.
Good editing gives pictures and videos a new life. And you can also provide services just for editing pictures. This is a good way to increase your side income and earn a few extra bucks.
#3- Photo Editor
Many beginners who have little to no knowledge of color grading and photo editing tend to outsource these tasks to other people. I personally take up these assignments just to earn a few quick bucks.
Editing photos is usually very easy. If I talk about color grading, most shoots are carried out in a single environment, and a single preset for color grading will work for most photos. Photo manipulation can be a little tricky, but with a little practice you can ace this as well.
#4- Improve Your Communication Skills
Communication skills are the most important thing when landing a new gig. I have seen many skilled photographers fail to get a gig just because they lacked the essential communication skills.
Conveying your ideas to the client and understanding their requirements helps get a job and also improves the quality of your work.
#5- Work With Stock Photography Websites
As a photographer, I always have the urge to capture random photos of scenes that I like. Sometimes I capture beautiful sunsets, or busy markets, or anything that catches my eye. And I'm sure other photographers do this as well.
Submitting these photos to websites that sell stock images can help earn a passive income. Users can pay for using your images, and you can earn from that as well.
#6- Take Up More Freelancing Work
Taking up smaller projects during your free time can help increase your income significantly. Such projects do not need much time or effort.
These projects serve the purpose of marketing yourself as well. When I take up freelance projects, I look out for other potential clients at my shooting locations. This helps spread the word about my business. And references help you land a job quicker than you think.
How Much Money Can Instagrammers Make?
Instagram is a growing and very popular social media platform among millennials and Gen-Z. Brands spend hundreds of thousands of dollars promoting their products to potential customers via influencer marketing, paid promotions, and collaborations.
Per post earning varies depending on the number of followers and how much engagement there is on each post. Influencers can earn anywhere from a hundred dollars up to thousands of dollars. An influencer with around a million followers can earn around $1500 per post.
As a photographer, I prefer to collaborate with different camera manufacturing companies. I usually do camera reviews or tutorials. Sometimes these collaborations have a fixed amount, and sometimes I earn commissions on each sale under my referral code.
How To Become A Content Creator And Youtuber
One of the biggest misconceptions that I have come across among people who wish to become content creators or YouTubers is that you need the proper gear to start creating content.
Content creation is all about making interesting and engaging content. You can easily do it from your smartphone or small camera that you have available with you.
A YouTuber can do anything, from prank videos to DIY tutorials to simple podcasts in which you have a general discussion about any topic with any guest.
Initially, just focus on creating engaging content that will get you followers and subscribers, and as you grow, you can upgrade your gear to make better quality content.
What Type Of Photography Makes The Most Money?
A fine art photographer can make millions, but this is more about using your references and getting a crack at the gallery scene than about photography skill.
One of the most consistently lucrative jobs as a photographer is commercial photography. Commercial photography is a very broad field.
This includes taking pictures of gadgets, accessories, furniture, food products, beverages, clothing items, perfumes, etc.
The job of a commercial photographer is to capture details of the product and make it look more appealing to the clients.
This market requires great skills and is hard to break into. But once you get your hands on this, you can make around $100,000 from salary and licensing fees.
How Do I Set Up Pricing As A Photography Business?
Pricing is the biggest part of any business. Setting up pricing structures that are affordable for the target audience is important. If the prices were too high, landing a gig would be difficult, and if the prices were too low, then expenses would not be covered.
Calculate Your Expenses
The most important part of pricing is calculating your expenses. This will include the cost of equipment used, the time you will spend working on the shoot, and any overheads that are expected in the future.
It may be tempting to quote a lower price to a client to get the job. But doing so might end up costing you money from your own pocket.
I use a few psychological pricing techniques as well, like quoting prices in odd numbers. For example, I quote $199 instead of $200.
Recommended guides:
Know Your Market And Clients
Knowing your target market and clients is a very important part of your business. This helps market your skills and set prices for your services.
Research about how much other photographers working in your location and niche charge helps set your price and get more clients.
As a commercial photographer, I am always aware of the budgets that each brand has set aside for their shoots. And how much are other photographers charging these brands for each shoot.
Use Pricing Strategies
There are many pricing strategies used by different people. I will let you know some that I use. One of the psychological pricing techniques that I use is the odd-even pricing technique.
For example, if I have to quote $1000 for a job, I quote $999. This way, the client generally perceives it as in the $900 range rather than in the $1000 range.
When I don't have much work on my hands, I usually run a flash sale for 1 or 2 days to get some smaller projects.
What Skills Help Photographers Succeed?
One of the abilities that distinguish a photographer from others is their ability to use their equipment and gear intelligently. I believe that having the latest camera or having all the top gadgets does not matter if you don't know how to use them to their full potential.
Active and efficient communication with clients is also a key factor in a photographer's success. Having good work ethics is just as important.
Another thing that I always do and believe to be a major reason for my success is that I am always honest with my clients. This helped me build trust with them, and once they started trusting me, they became my recurring clients.
Wrap-Up:
In the end, I would say that photography as a profession is very rewarding if you have passion for this job.
It will require you to work hard to land new projects and gigs, but once you are able to make a name for yourself in the market, the frequency of the gigs will increase and thus your earnings will increase as well.
My advice to youngsters planning to enter this field would be to learn to use their equipment to its full potential and you will be good to go.
Frequently Asked Questions (FAQs)
Q1- What is the highest paid photography job?
Answer: Commercial photography and fine arts photography are some of the highest-paid niches.
Although other photography niches can earn a good living based on experience, level of expertise, and the quality of equipment and team used for shoots.
Q2- Is being a photographer a good job?
Answer: This depends on every individual. Some like to work as photographers and make good money from freelancing and other projects.
While some don't really like photographers as a profession and wish to work in other fields, I personally think being a photographer is a good job.
Q3- How can a teenage photographer make money?
Answer: In my opinion, the best way for a teenage photographer to make money is to do freelance projects.
They can cover smaller events, such as birthday parties and school events. And upload pictures on stock image sites to make some side income.
Q4- Is photography a good career in 2023?
Answer: If you have the right skills, photography as a career has a lot of scope. Photographers these days make as much or even more than other professionals. You also have the liberty to work on your own time and schedule.
Q5- Do you need a degree to be a photographer?
Answer: Although there is no need for a formal degree to work as a photographer, there are different institutions that offer courses and degrees in this field. Having certifications related to photography can enhance your portfolio, but this is not necessary.
Q6- Is it hard to make money as a photographer?
Answer: Just like any other business or freelance work, photography also depends upon your skills and communication with your clients.
Although it is not hard to make money as a photographer, it takes a lot of hard work and effort to earn a good amount.
Q7- How much do photographers make in New York?
Answer: New York-based photographers make a good amount of money. On average, they charge $25 to $30 per hour.
New York is full of opportunities and a photographer can easily earn around sixty thousand to sixty-five thousand dollars annually.
Q8- How much do photographers make in California?
Answer: A photographer in California can easily earn around fifty-five thousand to sixty thousand dollars annually.
These photographers charge around $25 for an hour of work. Again, these are average rates and may vary based on the nature of the shoot or the experience of the photographer.
Q9- How much do photographers make for a wedding?
Answer: This totally depends on the quality of the photographer and the package selected by the clients. There are packages for as low as a thousand dollars and can go all the way up to tens of thousands of dollars.